This new CMDFlash extension allow you to tune IROM and XROM of the new Bosch EDC17 and MED17 ECUs with locked Tricore microprocessor.
The product is based on a new additional interface to be connected to the CMDFlash unit.
We developed this new interface in order to give to the user the same friendly operative mode like BDM,
For all the EDC17 ECUs with the Bosch pads on the board ( like the old EDC16 BDM ) you just need the new provided EDC17 positioning frame probe, and no more extra-wiring will be required on the front ECU connectors.
For some ecu boot resistors welding is required.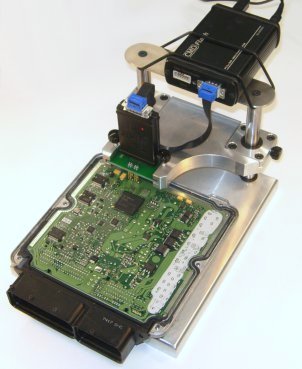 just press ID, read or write and the CMDflash interface will do everything automatically, exactly like the old BDM.
We also provide cables for the ECUs like Mercedes EDC17 ( with the pads placed on the other side of the pcb ) you don't need to extract the pcb from the case.
Power supplied through the CMDFlash interface, no additional table power supply is required.
TPROT-8/10 on VAG cars is supported. Newest ecu with new TPROT version may be locked.

Don't use 3rd parts checksums, Full RSA checksum correction for all the cars is included in the plugin.

Many ECUs have IROM or XROM or IROM+XROM configuration.
The CMDFlash software automatically read all the ECU contents and saves it for backup in a special folder, in the meantime it extracts only the calibration data area, allowing you to save and tune it, so you don't have to search calibration data in IROM and/or XROM, CMDFlash will do it for you. The same for the writing.

The CMDflash boot Kit includes:
-CMD Boot interface + flat cable.
-MPC004 EDC17 positioning frame probe, the probe is compatible with most of the positioning frames present on the market.
-Mercedes EDC17 cable
-Universal boot cable
-CMDFlash Power supply
-CMDFlash Protected MEDC17 Boot-Mode Plugin
-RSA checksums for all the ECU
Order can be done with credit-card on the reserved users area