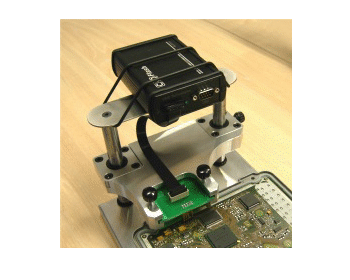 Software Revisions
Subscription rules
New probes for the positioning frame
---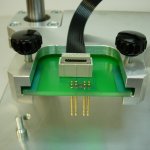 ---
The CMDFlash tool is a reader/programmer BDM,EOBD K-LINE,EOBD CAN-BUS,EOBD PWM for all the new generation ECUs.
With BDM you need to unplug the ECU from the vehicle, open and connect it to our tool using a connector available on every EDC16,Marelli,Siemens and Delphi ECU.
This Tool can be sold as a plug-in of our Map3d software or stand-alone.
The Software allow you to read/write the Eprom (29bl802 / M58), the internal firmware and the serial e2prom containing the car's codes.
Checksum correction algoritm is automatic for all the ECU families, this mean you don't have to care about checksums calculations .
With our tool is possible to read all the ecu's eprom, and after a bad map tuning, a system hung or an interrupted write operation
it is always possible to restart the program operation to restore the ECU and start the car.
All the ECU data can be stored in a single file with additional info like brand, model, plague, chassis number, data, note, customer .....
with search facilities and information directly integrated in microsoft windows explorer.
| | | |
| --- | --- | --- |
| | | |
---
List of ECUS - BDM
BOSCH EDC16 C8 ALFAROMEO/FIAT/LANCIA
BOSCH EDC16 C4/U1 AUDI VW
BOSCH EDC16 C1 C31 BMW
BOSCH EDC16 C2 MERCEDES
BOSCH EDC16 C3 PEUGEOT/CITROEN
BOSCH EDC16 C3 RENAULT/NISSAN/SUZUKI
BOSCH EDC7 C1/2/3
MARELLI FIAT 1.3 MJ
MARELLI SUZUKI/OPEL 1.3 MJ
SIEMENS MSV70/MSS70 BMW
BOSCH EDC16 C3 FORD
BOSCH EDC16 C8 IVECO
MOTOROLA SCANIA HPI 420R/470R/500R/580R
SIEMENS 5WS-202-206-803/A VOLVO/FORD/PEUG./CITR.
MOTOROLA MERCURY MARINE PCMXXX/ECMXXX
BOSCH EDC16 C2/C7 HONDA
BOSCH ME9 BMW
BOSCH EDC16 U31/CP34 AUDI VW
SIEMENS MS45 5WK BMW
DELPHI FORD/JAGUAR
DELPHI SSANGYONG/TATA/CITROEN/SUZUKI
PERKINS CAT/LANDINI
BOSCH EDC16 C9 OPEL/SAAB/CHEVROLET
BOSCH MED9.5 AUDI VW
BOSCH EDC16 C35 BMW
BOSCH EDC16 C34/CP39 PSA - KIA/HYUNDAI
BOSCH ME9.0 VOLVO/FORD
BOSCH EDC16CP31 MB EDC16C32 SMART
BOSCH EDC16 C10 TOYOTA
BOSCH MED9.1 AUDI VW
SIEMENS 5WS201/4 JAGUAR/PEUGEOT/LANDROVER
BOSCH ME9.7 MERCEDES
BOSCH EDC16 U34 AUDI VW
SIEMENS EMS2000-N5D HYUNDAI
SIEMENS MSS65/60 BMW
SIEMENS VAG PPD1.1 PPD1.2 PPD1.3 PPD1.5
DELPHI 4JJ1/4JK1 ISUZU
BOSCH BMSK BMW MOTORCYCLE
BOSCH EDC16 C39 AR/FIAT/LANCIA/IVECO
SIEMENS SID-301 PIEZO RENAULT
MARELLI FIAT/OPEL 1.3 MJ+
SIEMENS SIM266 MERCEDES
BOSCH ME9.2 BMW MED9.6.1 FERRARI
BOSCH EDC16 C31 VOLVO
BOSCH EDC16 C39 SAAB/OPEL
BOSCH EDC16 C8 MAHINDRA
BOSCH EDC16 U31/C31 DODGE/MITSUBISHI/JEEP
BOSCH EDC16 C39 SUZUKI
CUMMINS CM848
BOSCH EDC16 CP33/C36 RENAULT
BOSCH EDC16 C39 GM DAEWOO GW
DELPHI DCM3.2 SSANGYONG/KIA/MB CRD.11 EURO4
BOSCH EDC7 UC31-C32-U1
SIEMENS SIMOS 6.X VAG
BOSCH EDC16 C41 NISSAN
DELPHI DAF XF 105
DEERE X30 TIR3
TRW EMS2 VOLVO MPC565
BOSCH EDC16 C39 CASE/UC40 DEUTZ
BOSCH ME9.6 OPEL
CUMMINS INDUSTRIAL VEHICLES
SIEMENS SIM90E/SID902
---