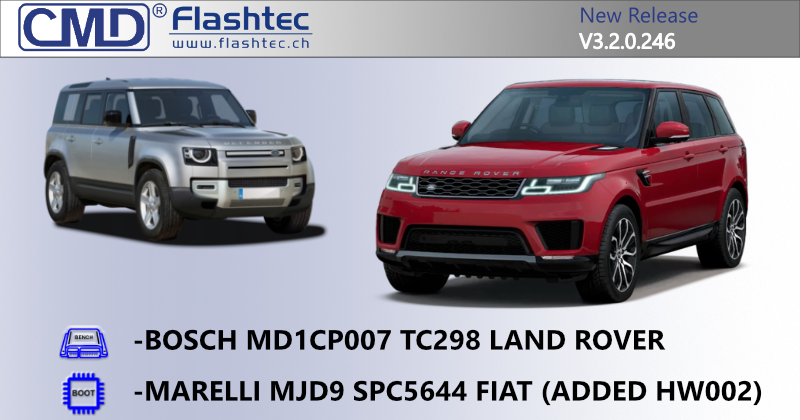 BOSCH MD1CP007 LAND ROVER

MARELLI MJD9 SPC5644 FIAT ( added HW002 )
HW002 by OBD alredy released in the past  V3.2.0.159-> 
---
CMDFLASH - 13-11-2023 - V3.2.0.245
-TOYOTA 2024 NEW LandCruiser 300 3.3D 227KW DENSO DIESEL-R7F701216 60S30 CAN
-NISSAN HITACHI BED430 (Juke 1.6)
-NISSAN HITACHI BED431 (Juke,Pulsar,Qashqai,Tiida,Trail 1.6 DIG-T)
-NISSAN HITACHI BED40A (Pathfinder 3.5 V6)
-INFINITY HITACHI BED40A (QX60 3.5 V6)
-RENAULT HITACHI BED434 (Espace,Kadjar,Koleos,Megane,Talisman 1.6 TCE)

-NEW FEATURE - BOSCH MEDC17 CMDLOCK
< BENCH >,< TOOL >,BOSCH MEDC17 CMDLOCK ECU
This protocol is made to protect your tuning job.
After the tuning you can select this protocol and disable BENCH access and PWD reader access to BOSCH MED17/EDC17 Ecus.
BENCH access will be disabled
PWD reader will be disabled
Only the owner of the PWD file will be allowed to have again access to the ecu.
ECU passwords will be removed from CMD Server and stored in the PC "my ecu backup" folder.
so only the PC with the password file will be able to gain BOOT-MODE access to ECU.
in this way ECU is protected against BOOT/BENCH read.
All manufacturer OBD protocols remain untouched
and ECU can be upgraded at dealer without problems.